Check out the new Woodson Band fundraiser, Menuocity, on the Fundraiser page.
Notice: If you are unable to open the Marching Band Forms Portfolio, contact webmaster@woodsonband.org
The Capitol Steps Come to Woodson
August 23, 2016
The Capitol Steps, a Washington DC-based comedy troupe that began as a group of Senate Staffers, will present a show based on songs from their current album "What to Expect When You're Electing" at the Joan C. Bedinger Auditorium of W.T.Woodson High School, Fairfax, VA. Read more...
Woodson Band spirit wear for the 2016-17 school year
August 18, 2016
Spirit wear is coming earlier this year! The samples and order forms will be available outside the band room during the first week of band camp. Also you can download a new order form here. All orders are due on Wednesday, August 24. Please contact rachel@warme.net if you have any quiestions.
Woodson Band recorded the song
April 20, 2016
Woodson High School Band had the great opportunity to write and record "Band Nerds in Nashville" song with a famous songwriter James Dean Hicks during the Nashville trip.
Download files here: Audio | Lyrics
Stay in the loop with an RSS Feed for the Woodson Calendar
---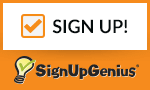 ---